We define restorative practices as a process by which an individual acknowledges wrongdoing, takes steps to repair harm and is welcomed back into the community. This, in effect, fosters a culture that elevates dialogue and values relationships.
301 – Sustaining a Restorative Culture
Focusing on the intervention aspect of restorative practices, especially when conflict arises, we'll practice the skills required to address situations using an intentional facilitation process. 101 and 201 of the restorative practice trainings teach the informal language and dialogue used to create restorative culture and prevent greater harm. 301 picks up when a greater harm has been caused and addressing this harm requires a more intentional facilitation process. This workshop is specifically designed for those who have attended RP101 and RP201, or for those who are looking for formal circle facilitation practice. Ultimately, this session provides attendees with the ability to conduct formal restorative practice circles.
You will leave this training confident in the following areas:
Formally pre-conferencing students
Facilitating a formal circle
Following up with people and gaining feedback for greater insight
Using restorative language within the facilitation of a formal circle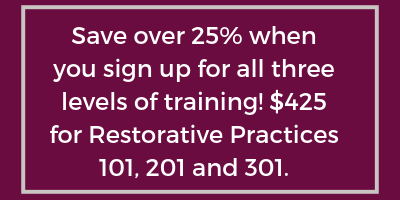 Our goal is to make our classes available to everyone who wants to benefit from learning new skills. Not sure if this applies to you? We do not want finances to be a barrier for taking our courses. For questions about payment, please contact Erica Lee at 303.865.5624 or by email at erica.lee@conflictcenter.org.