What are restorative practices?
We define restorative practices as a process by which an individual acknowledges wrongdoing, takes steps to repair harm and is welcomed back into the community. This, in effect, fosters a culture that elevates dialogue and values relationships.
Introduction to Restorative Practice: Implementing the Basic Principles 101
This introductory training is designed to provide a baseline understanding of the pillars of restorative practice, fundamental practitioner skills and insight on why it is needed to help transform school, organization and community culture.
You will leave this training confident in the following areas:
History, values, theory and applications of Restorative Practices.
The 5Rs that make up the foundation of restorative culture.
Strategies to create buy-in for implementing Restorative Practices within your organization
The Restorative Practices Continuum (i.e. affective statements vs. formal conferences)
Understanding the appropriate restorative strategy to use in different situations.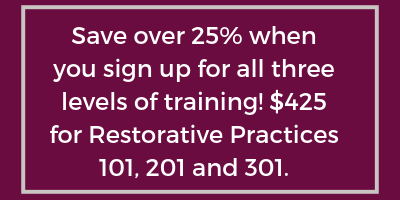 Our goal is to make our classes available to everyone who wants to benefit from learning new skills. Not sure if this applies to you? We do not want finances to be a barrier for taking our courses. For questions about payment, please contact  the Restorative Justice program manager at 303.865.5624 or by email at amber.ford@conflictcenter.org.