What are restorative practices?
We define Restorative Practices as a process by which an individual acknowledges wrongdoing, takes steps to repair harm and is welcomed back into the community. This, in effect, fosters a culture that elevates dialogue and values relationships.
Day 1: 101 – 5 R's of Restorative Culture: An Intro to Restorative Practices in Schools
Introductory training designed to provide a baseline understanding of the pillars of RP, fundamental practitioner skills and insight on why it is needed to help transform school and community culture.
Training Objectives
Review the history, values, theory and applications of Restorative Practices.
Identify the 5Rs that make up the foundation of restorative culture.
Learn strategies to create buy-in for implementing Restorative Practices within your school
Dive into the Restorative Practices Continuum (i.e. affective statements vs. formal conferences)
Practice using the appropriate restorative strategy in different situations.
Day 2: 201 – Implementing Restorative Circles in Your School
With an emphasis on prevention and the development of RP language, we'll learn to use restorative practices skills to develop collaborative norms, learn how and why to run proactive circles, how to use affective statements & reframing and how to address conflict in the moment. By implementing restorative practices in the everyday culture of a school, conversation and problem solving become the norm and preventative in nature. This course is geared toward education professionals who will be establishing relationships within a school and managing a group of students or peers.
This training focuses on…
Facilitating proactive circles
Creating group agreements and setting norms within circles
Building skills and competencies for restorative language
Creating affective statements and questions
Reframing inflammatory statements
Implementing strategies to general awareness and empathy of students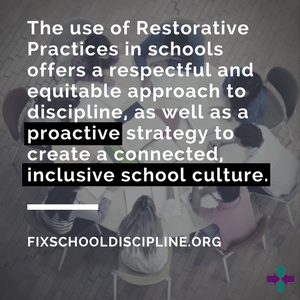 Day 3: 301 – Sustaining a Restorative School Culture
Focusing on the intervention aspect of restorative practices, especially when conflict arises, we'll practice the skills required to address situations using an intentional facilitation process. 101 and 201 of the Restorative Practice trainings teach the informal language and dialogue used to create restorative culture and prevent greater harm. 301 picks up when a greater harm has been caused and addressing this harm requires a more intentional facilitation process. This workshop is specifically designed for those who have attended RP101 and RP201, or for those who are looking for formal circle facilitation practice. Ultimately, this session provides attendees with the ability to conduct formal Restorative Practice circles.
This training focuses on…
Formally pre-conferencing students
Facilitating a formal circle
Following up with students and gaining feedback for greater insight
Using restorative language within the facilitation of a formal circle
A full refund up to two weeks before and 50% after that.  Full refund will also be offered in the case of state or city changes or restrictions re: ability to meet in person because of COVID-19 and are not able to provide a virtual alternative.
We provide a 50% discount for anyone who would qualify for some form of government or social assistance.  Not sure if this applies to you? Our goal is to provide classes to everyone who wants them, so call us and we are happy to discuss.