'TCC has the ability to teach skills that can have a real impact'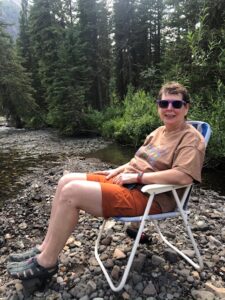 After serving nine years on The Conflict Center's Board, Brendalee Connors believes more than ever in TCC's mission "to be at the center of nonviolence." In fact, she's certain TCC has become only more essential to our community: "As I look at all of the violence that is happening in our city and more broadly, I believe the mission is needed now more than ever," she said. "We desperately need to have constructive ways of dealing with conflict, both personally and systemically. TCC has the skills and the ability to teach skills that can have a real impact."
Connor's dedication to helping others engage with conflict in a healthy way first inspired Connors to join TCC's Board. Chief real estate officer at Metro West Housing Solutions in her day job, Connors "knew about and liked the idea of the school programs that they did, concepts around restorative practices, and the Reading for Peace program," she said – and TCC's commitment to equipping families, students, and individuals with practical skills for conflict management and relationship building dovetailed with her work in affordable housing. 
Soon Connors stepped up as Board treasurer, with a goal to ensure the nonprofit's financial stability. Since TCC owns the building in which the organization is located, Connors helped the staff determine what space was needed for TCC and what could be leased as a source of income, thus setting a high standard for responsible financial choices for the nonprofit.
"It's been an exciting time as we looked at the big picture of the organization and were able to expand programs," Connors reflected, adding with a laugh, "Maybe because I'm a baby boomer, I felt I had made a commitment and wanted to see it through." 
As much as Connors helped shape and guide TCC's future, especially in terms of its finances, she too was notably influenced by TCC's mission. "It has challenged me to think broadly about conflict and its impact (and) also to look much more deeply about diversity, equity and inclusion," she stated.
Looking forward, Connors will serve on TCC's finance committee and hopes to see TCC continue its growth in restorative practices in schools and with the criminal justice program. She concluded, "I would love for TCC to gain the recognition it so definitely deserves as an expert in this arena."